At James Coffee Studios there is a passion for automata.
All my life I have enjoyed creating small machines. Sometime around 2017, I learned that these little machines were called automata. In 2016 I purchased plans for and constructed a 20 Pipe Street Organ, a John Smith Senior 20 design. After playing it in public a few times I was made to realize that it needed a monkey. I created Monte the Monkey, and my formal trip down Automata Lane began. Here is what I have designed and created thus far:
Airship
Flying above the mini carnival is an airship. In real life this little guy would not fly, but then this is not real life, is it?
The pilot and copilot smile and wave at the crowds below as the airship hovers near the Carousel. The paying customers sit in the rear seats, enjoying the sights and sounds. The two propellers spin and the rotor whirls as the airship dances in the air
The Airship contains four small gear motors, which are powered by the 6vdc rechargeable lithium battery which is mounted underneath the mini carnival.
At this time (February 25, 2023) the airship is complete with the exception of the livery, which I am working on.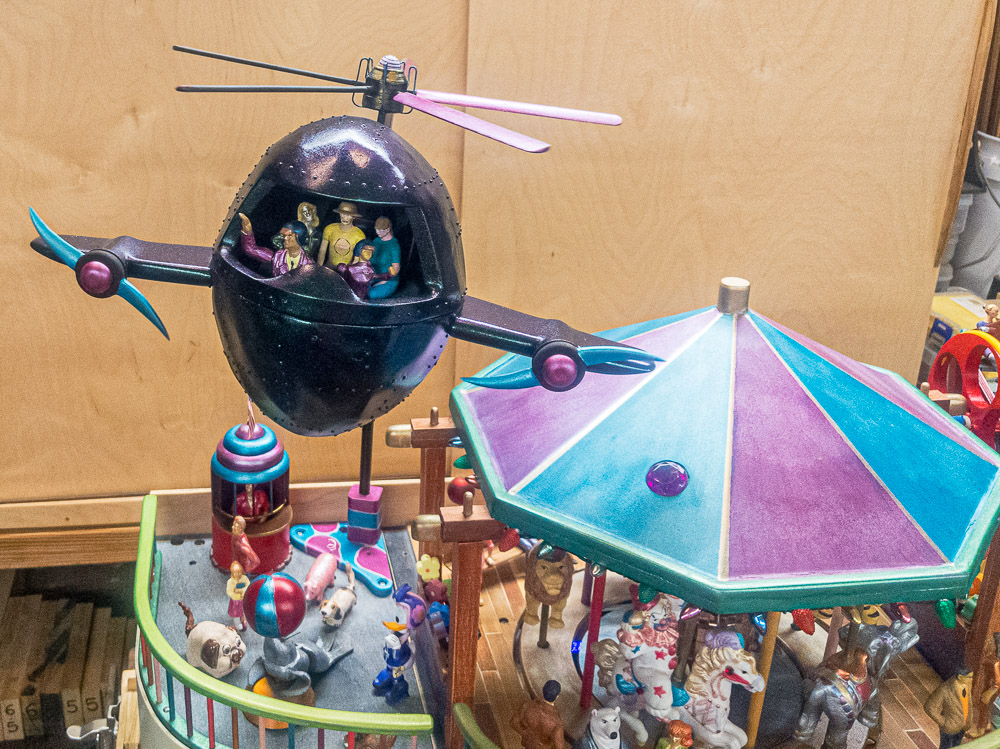 Ball Spinning Seal
July 2022. Playing my 20 Pipe Street Organ in public has been a very rewarding experience. It makes people happy. I've just added a "Seal Spinning a Ball on its Nose" module to the mini carnival that sits on the front of my 20 Pipe Street Organ. It joins the Carousel and the Ferris Wheel.
In addition to the Seal spinning the ball, there are three dogs wagging their tails, a pig spinning its tail, and the carnival owner looking out over everything from his spot in the ticket booth. Daisy Duck gazes enviously at the Seal.
This module is electric, powered by the mini carnival 6vdc lithium battery pack.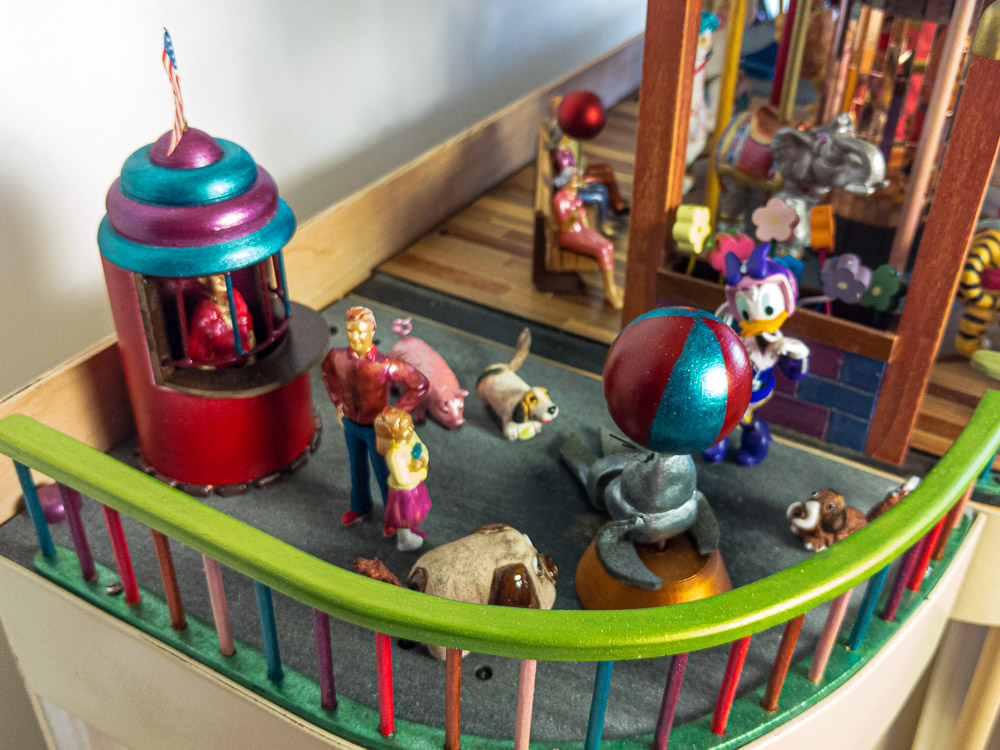 Carousel & Ferris Wheel
April 2022. Playing my 20 Pipe Street Organ in public has been a very rewarding experience. It makes people happy. I've just added a Carousel and a Ferris Wheel (a mini carnival) to the front of the street organ and I've found that people are even happier. We need happiness in the world.
There are many fun little details aboard the Carousel and Ferris Wheel. The Ferris Wheel characters are fastened with magnets, which allows me to swap them out depending on the seasons and holidays.
The Carousel and Ferris Wheel are powered by the 6vdc rechargeable lithium battery which is mounted underneath.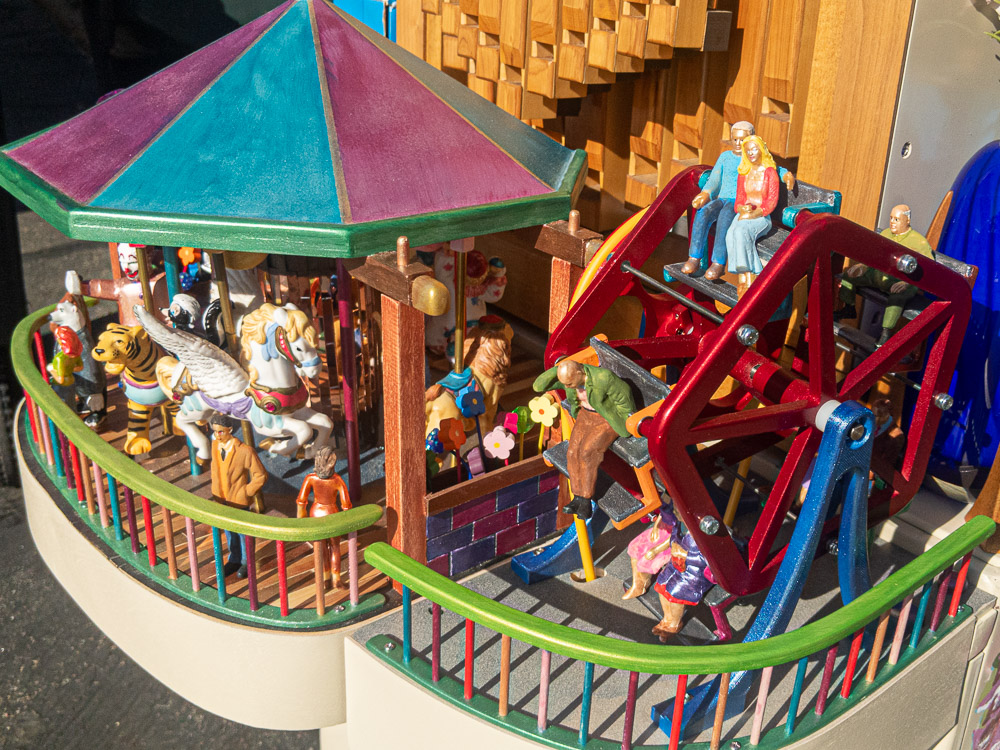 5 Slat Message Board
July 2021. This automaton depicts a biped exercising by pedaling. The output of the pedaling effort is the movement of the 5-slat message board. The message board cycles three messages and then repeats.
The messages are held in place with magnets so that the messages can be changed.
The 5 Slat Message Board is powered by a 110vac gear motor.
Auger Lift
March 2021. This automaton depicts a man exercising. He is pedaling an elliptical type of machine. His efforts turn an auger. The auger lifts marbles to the top of a marble run. Powered by a 110 vac gear motor, this automaton is a pleasure to watch. It is created using hardwood, baltic birch plywood, stainless steel shafting and bearings, leather, and custom 3d printed components.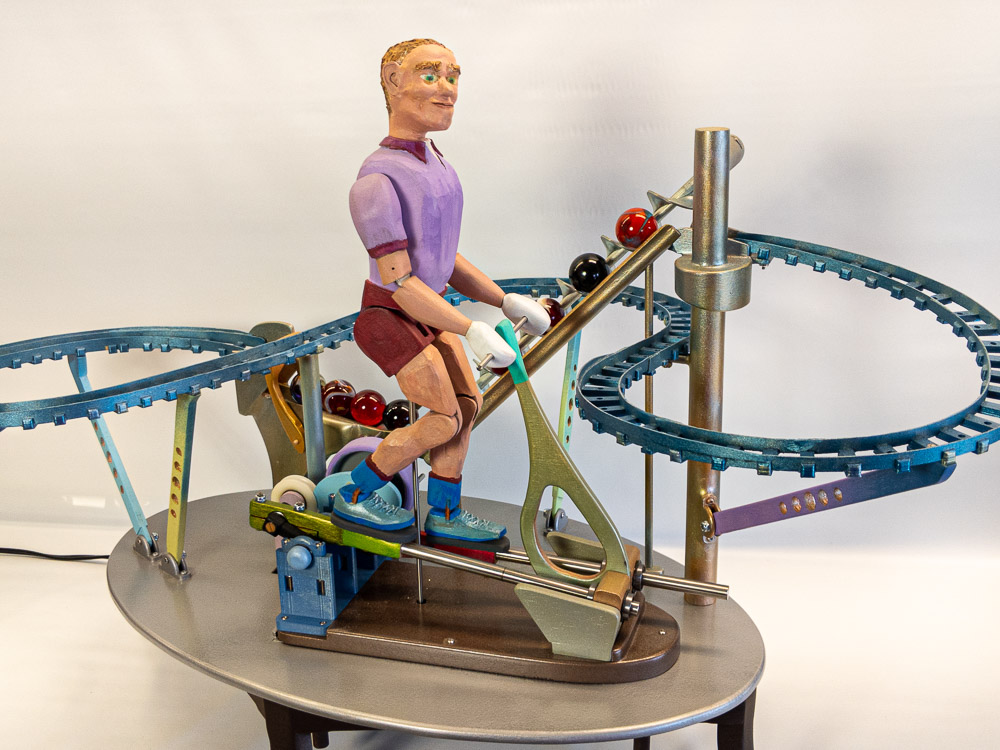 Stair Stepping Bottle Spinner
September 2021. The delightful Stair Stepping Bottle Spinner is the 3rd design in the 'product spinning' series of automata that I am creating. A biped steps on levers, which in turn drive a chain that incrementally rotates a 4-1/2″ display platform. The display platform is designed to hold a bottle or a can. The 'product spinning' series of automata are to be rented into customer-facing environments, such as a counter in a retail store, and are responsible for the display of products of special interest or focus.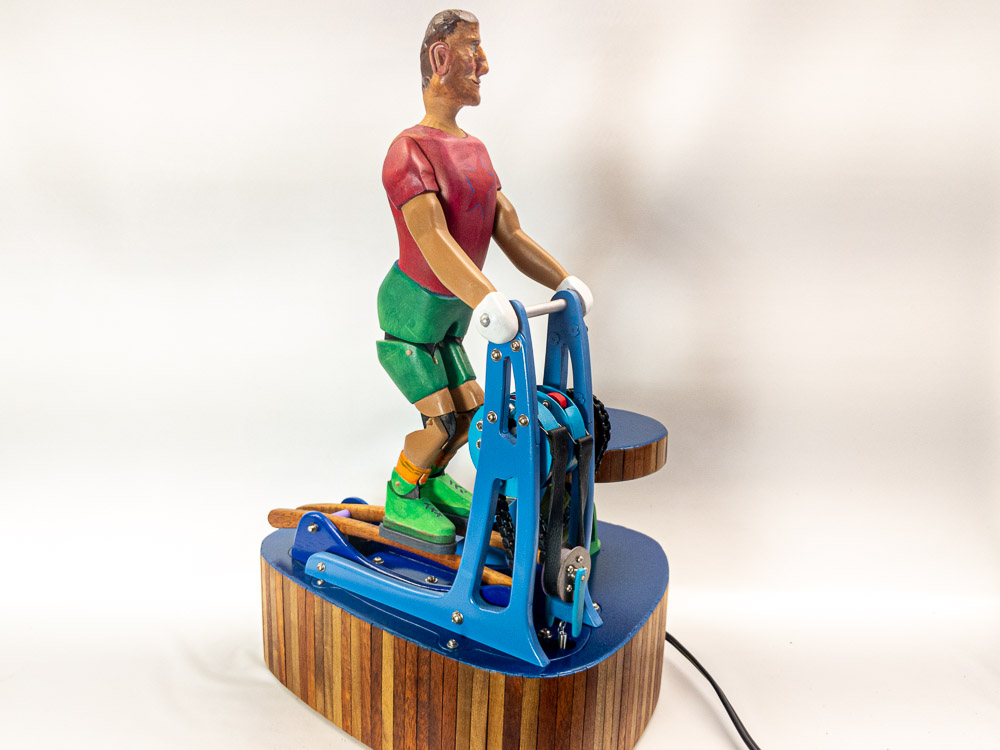 Peddler
September 2020. The eye-catching product spinning Peddler is the 2nd design in the product spinning series of automata that I am creating. With a stationary lower base, a biped waves and pedals the upper base in circles, which in turn causes a 9" display platform to counter-rotate. The display platform is designed to hold and call attention to larger-small items, such as jewelry, pastries, confections, art, sunglasses, watches, books, cards, drugs, electronic devices, etc.
Surfer
April 2020. This energetic little surfer is the result of a 'two-week construction' challenge that I gave myself. The surfboard is mounted on three moving shafts. As the handle is turned the surfboard moves randomly, as if skimming over the waves, The surfer's feet move on the surfboard as he keeps his balance.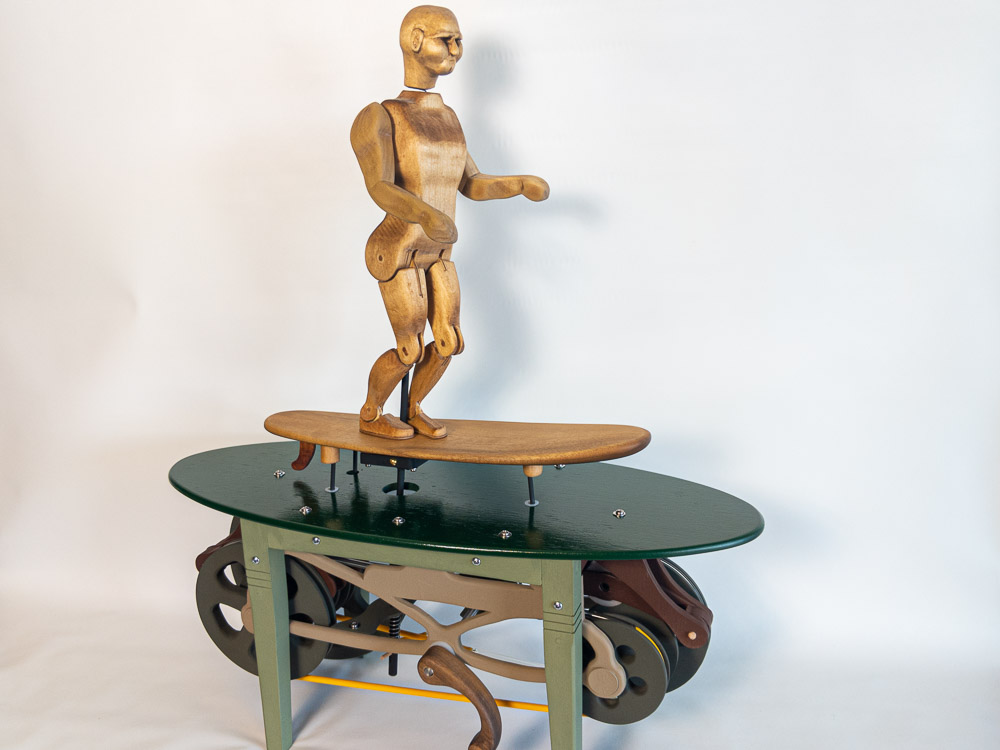 Two Tier Spinner
May 2020. The appealing Two Tier is the 1st design in the product spinning series of automata that I am creating. A biped works out by both pedaling and pulling levers. As a result of his work-out two product display tables and one flag pennant are caused to rotate. The product display tables are intended to hold products for display. The two tables rotate counter to each other at different speeds. This automaton would be used in a customer-facing situation, such as the counter of a retail store, to call attention and focus on certain products or items.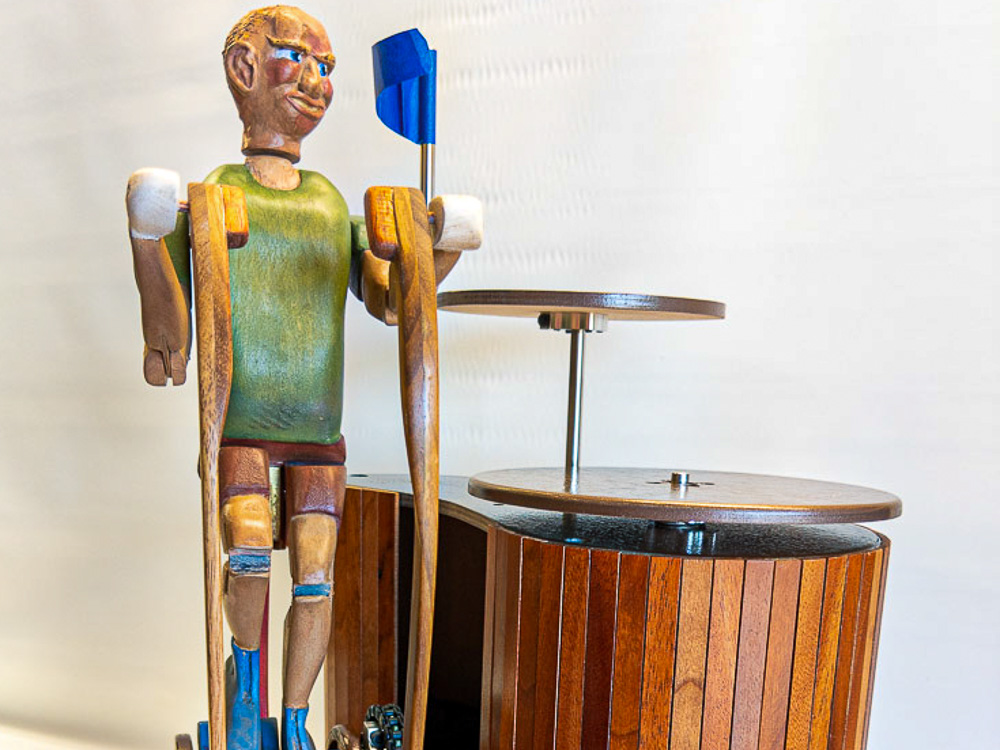 Big Wheel Lift
July 2019. Big Wheel Lift #1 seems to easily capture the attention of passers-by. One of the Jim's Gym series of automata, a biped is exercising by pedaling and pulling levers. This motion in turn causes a big wheel to lift marbles from the bottom to the top, where they drop onto a track and roll back to the bottom. Lots of color and motion and interesting noises. Magnetic shock absorbers. This is a fun one.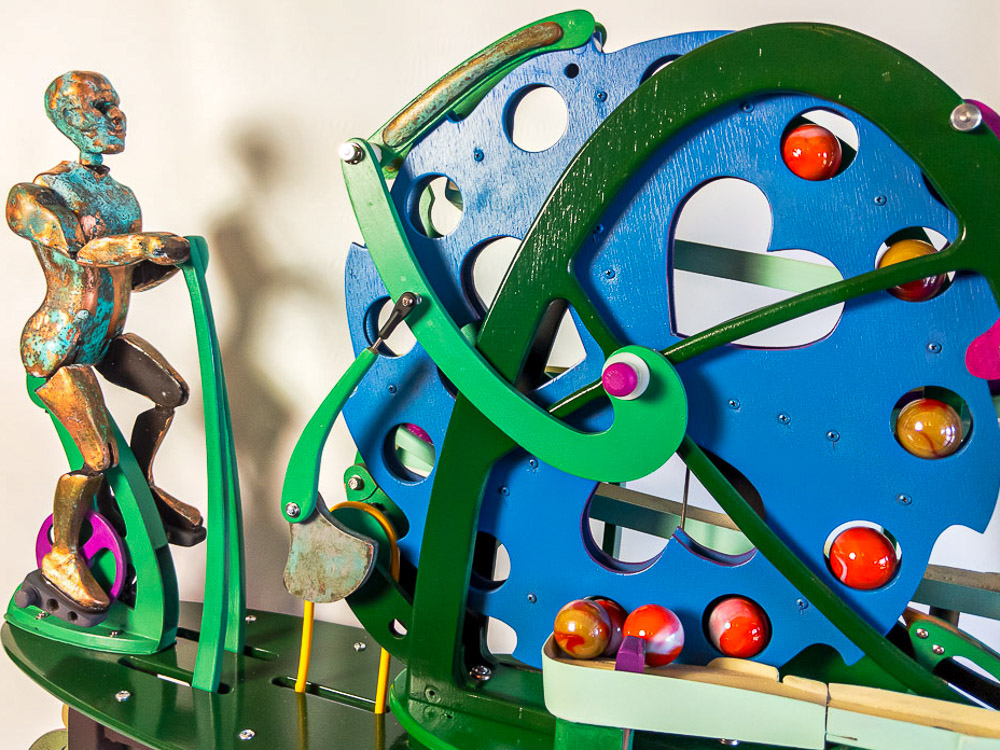 Scissor Lift
July 2018. The first of the 'Jim's Gym' series of automata, this active little automata is a pleasure to operate and watch. As the crank is turned the biped raises and lowers handles which, thru a scissor-like mechanism, in turn, raise marbles to the top of the automata. Powered by gravity the marbles then descend back to the bottom where they arrange themselves and prepare for another trip.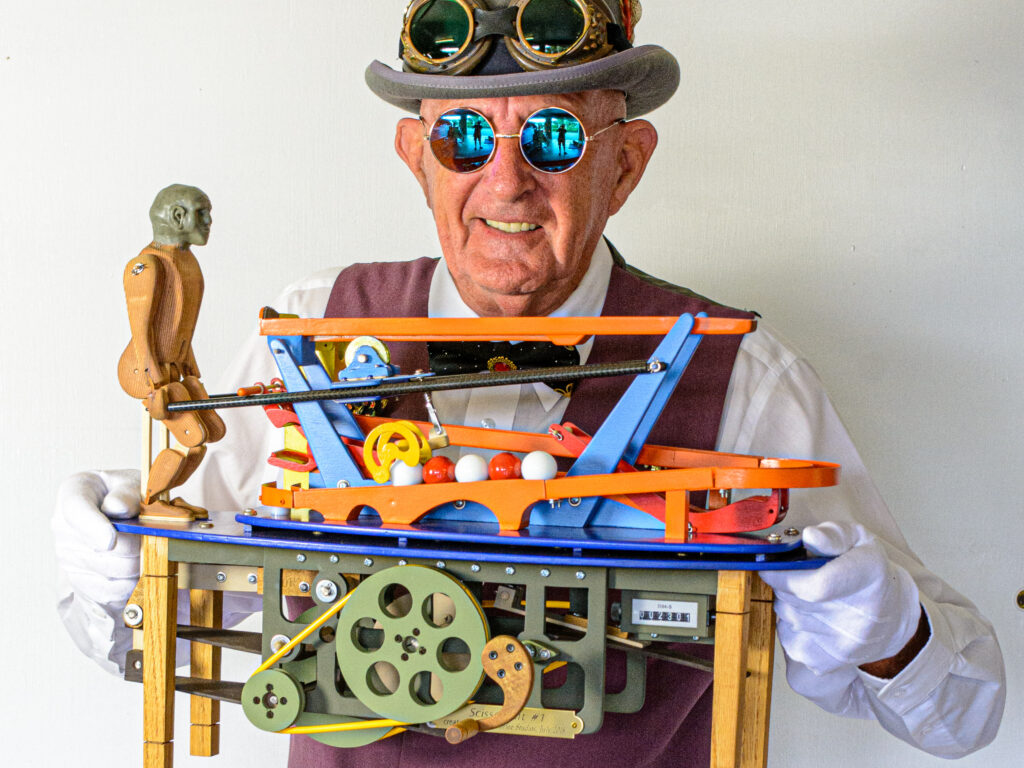 Monte the Monkey
December 2016. After playing the street organ in public for a few sessions, and after having been asked MANY times 'where is your monkey?' I decided to bite the bullet and install one. A trip to the San Diego Zoo Safari Park netted me a stuffed monkey. I replaced its stuffing with cogs and links and struts and bearings and soon had a monkey that rotated left and right, and that moved its left hand up and down, sort of like a music conductor would.
I installed his wand and dressed him and we were off to the races. The public seemed to relax about things and was able to enjoy the music more, now that the monkey was present. His hat is held on with magnets. This allows me to change his hats depending on Christmas, St. Patricks Day, 4th of July, etc. I also change his wand when appropriate. Monte makes a huge difference and was my first formal automaton.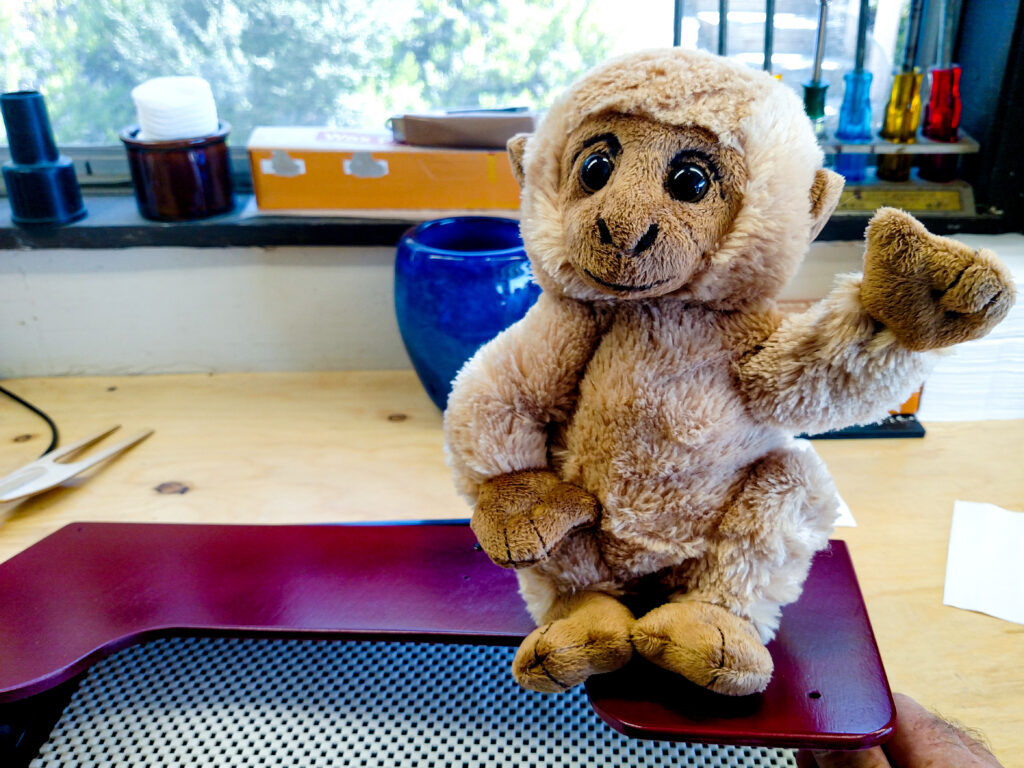 20 Pipe Street Organ
September 2016. The 20 Pipe John Smith Senior 20 street organ I constructed in 2016 looks pretty basic in this image. Since then I've repainted it, added a monkey, and added a mini carnival.
At this writing (September 2022) I have performed in public with this organ for more than 700 hours. The crank has been cranked more than 1,000,000 times. I now own 20 rolls of music. My favored mechanical music arranger is Melvyn Wright (London, UK).
I love performing with this organ. I continue to be impressed by its appeal across the age spectrum.
I've named this organ "Misty" in honor of a Golden Retriever that Cheryl and I were able to share some wonderful years with. A retired service dog, she was perfect.